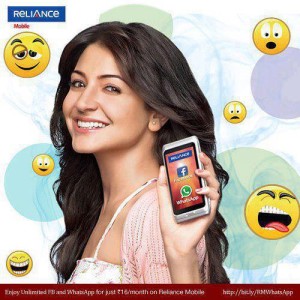 Juts got of the Analysts call of RCom and here are some interesting numbers. First, lets start with Broadband and Data Services.
Reliance Communications at the end of DEC 2012 had 27.6 Mn Data Subscribers which include 2G, 3G and CDMA based EVDO Dongle Customers as well.
RCom reported 6.1 Mn 3G Broadband Subscribers at the end of Dec 2012. Despite higher Data Usage, Revenue witnessed pressure but the Management is confident of Data Off-take and asked us to look at the brighter side.
Total Data Usage Per Customer is 280 MB in the DEC-2012 Qrtr.
Data Services contributed 20.9% of overall wireless revenues. [Read total Non-Voice, that is how the company discloses to shield the revenues that it gets from CDMA EVDO Services to avoid potential legal battles]
Data will be 40% of Total Wireless Revenues in the next 2 – 3 years
CDMA Data Strategy – As we broke the news earlier this Week about Reliance using 800MHz CDMA network for Data, it is now planning to introduce SmartPhones on CDMA Platfrom from across the world to retain High End Customers who contribute Higher ARPU. Large Screen [Laptop, PC, etc] Customers will be encouraged to Log on to CDMA EVDO Data Network
 Reliance also has 1.498 Mn Wired Broadband Customers which has remained flat on a QoQ basis.
Other Important Highlights of the Call are as Follows,
Reliance Infratel is in talks with 3 Potential Large Telecom Companies to strike a Passive infrastructure deal. Gurdeep Singh dropped a hint saying that their Global Network will be an advantage including handling 4G Services in Future. The management also indicated on how Network Infrastructure building cost has shot up significantly in the last 5 years and it is impossible to lay PAN-India network for anybody at cost lesser than incumbents.
Wireless ARPU of Reliance Communications is up to Rs 119 / Sub / Month – Up 17% QoQ Basis.
Wireless Industry approximately has 600 Mn active unique users and their exists opportunity for another 300 Mn addition and is still the bread and butter for most of the Telecom companies. Peak of CAPEX is behind.
Mobile Call  Tariff Hike Not Reversible – RCom was the first to hike Base Tariff from 1.2 Ps / Sec to 1.5 Ps/ Sec. They believe pricing power will return to the industry and is confident of 2 or 3 rounds of price hikes. Going forward RCom expects 6 ps to 8 ps jump in ARPM. Gross customer acquisitions will fall but with higher ARPU it will help have better customers
What are the Financial Benefits of Network Outsourcing to Alcatel Lucent for RCom ? Alcatel is the Leader in Harmonizing various heterogeneous networks which enhances QoS and consumer experience which translates into Lower Churn, Better Stickiness, etc Overall RCom must see a benefit of 8-10% lower network cost by outsourcing it to Alcatel. [ Network Outsourcing by Telecom Companies was a Model started by Sunil Mittal of Bharti Airtel]
Gurdeep Singh, CEO highlighted that RCom will be marginally affected by the recent Additional Spectrum Charges and re-iterated the same again probably to emphasize how Airtel, Vodafone and Idea are at the receiving end of regulatory moves.
I wonder are where the Day Dreaming Devils who all wanted to Venture into Telecom Services 😉 Come participate in the Spectrum Auction and prove that you are not just Day Dreamers but Doers.