Reliance Infotel Broadband, PAN India 4G / LTE licensee of Broadband Wireless Access Spectrum in 2300MHz band has began pilot testing of 4G / LTE Services in Mumbai, Thane, Navi Mumbai, and Panvel regions.
We have 100% authentic information that Reliance 4G LTE is being tested at 40 Locations as detailed here.
Reliance 4G LTE Broadband – Initial Coverage Map in Mumbai / Navi Mumbai Area is as below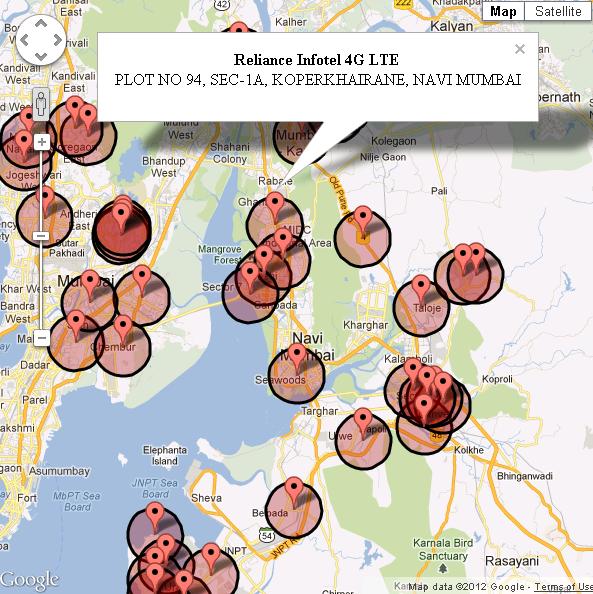 Airtel 4G Vs Reliance 4G Coverage
Since the award of BWA License in 2010, Airtel has managed to launch 4G LTE Services in Kolkata, Bangalore and Pune with testing being done in Chandigarh, Mohali and Panchkula. Airtel has deployed a total of 2,838 4G LTE Base Stations with the maximum in Bangalore 1,500+. On the other hand Reliance is in no hurry and is rolling out back-haul OFC network first and then erect towers. Reliance as on date has 40 4G LTE base stations and may launch the Service for Consumers by Year end in Mumbai Region.
You can also View all India 4G / LTE Coverage Maps here.
Request to Readers in Mumbai Region If you happen to be near any of the Tower Locations as mentioned here, can you please check if it is a shared infrastructure or completely Reliance Infotel owned towers and inform us ? Thanks.