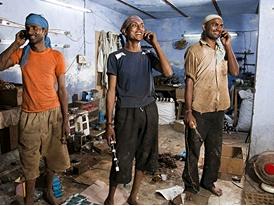 The Indian Wireless Industry went into turbulent times with the entry of new players leading to massive Price aggression in 2G Voice Business. To satiate Data / Internet demand Government auctioned the 3G & BWA spectrum and we had new operators entering the sector with investments though have not yielded enough market share gains for any of the challengers to have a viable business model.
What is the new Operator's Strategy and What are they Fighting For ?
At some point and in some circles new operator can become the fourth largest operator in a more normal market structure (say 6 players per circle ) An exit at this point means foregoing the daredevil step they took and massive loss of investments. If carefully executed, perhaps there is light at the end of the tunnel, atleast in some circles and then command a premium during their eventual exit by means of Merger or an Acquisition. For Example, Uninor has already adopted this strategy, by clearly stating its intentions to restrict operations to nine circles only.
How do the Big 3 of Indian Telecom [Airtel, Vodafone and Idea] Compare with the rest of the Industry on Business / Financials Front ?
Total Revenues – Big 3 together have Rs 877 Bn while the rest all together share just Rs 458 Bn
Revenue Market Share – Big 3 65% rest of the operators 35%
Subscribers Market Share – 48% for the top 3 and 52% for the rest of the industry
Minutes of Usage market Share – 60% is with Big 3 incumbents and 40% with the rest
ARPU – Rs 176 / Month for Top 3 and half-way for the rest at Rs 87
Revenue Per Minute – 0.432 for the Top 3 while the rest have to be contented with 0.337 [A whopping difference of 22%]
Revenue Per Cell Site – ~Rs 236,000 for the Big 3 and for the rest it is Rs 123,816
Like I have said in the past, Telecom is a Capital intensive long gestation business. Entering the league of Top 4 in RMS rank is necessary to have a sustainable business case, maybe only in selected circles rather than creating a pan-India business.